Welcome to the Support Center
See our recommendations for how to get familiar with NeuroTennis right out of the box.
NeuroTennis instructions are contained in the Quick Guide.
You can also access the Quick Guide from the NeuroTennis app, via the main menu. Also see our instructional videos below, and our Frequently Asked Questions section. Contact us at support@neurotennis.com if you have any questions or issues using the NT devices or the app.
To contact us, please use the blue button below. In your email, please include your first and last name. Also, if it's the first time you contact us, please include the serial number for at least one of your NeuroTennis devices.
The serial number is displayed on the sticker on the back of the device. Please make a note of your serial numbers for future reference. If you are unable to read the number, you can obtain it via the app. First connect to the device using your phone, and from the "Devices" panel in the app, tap on the "information" button, as shown here: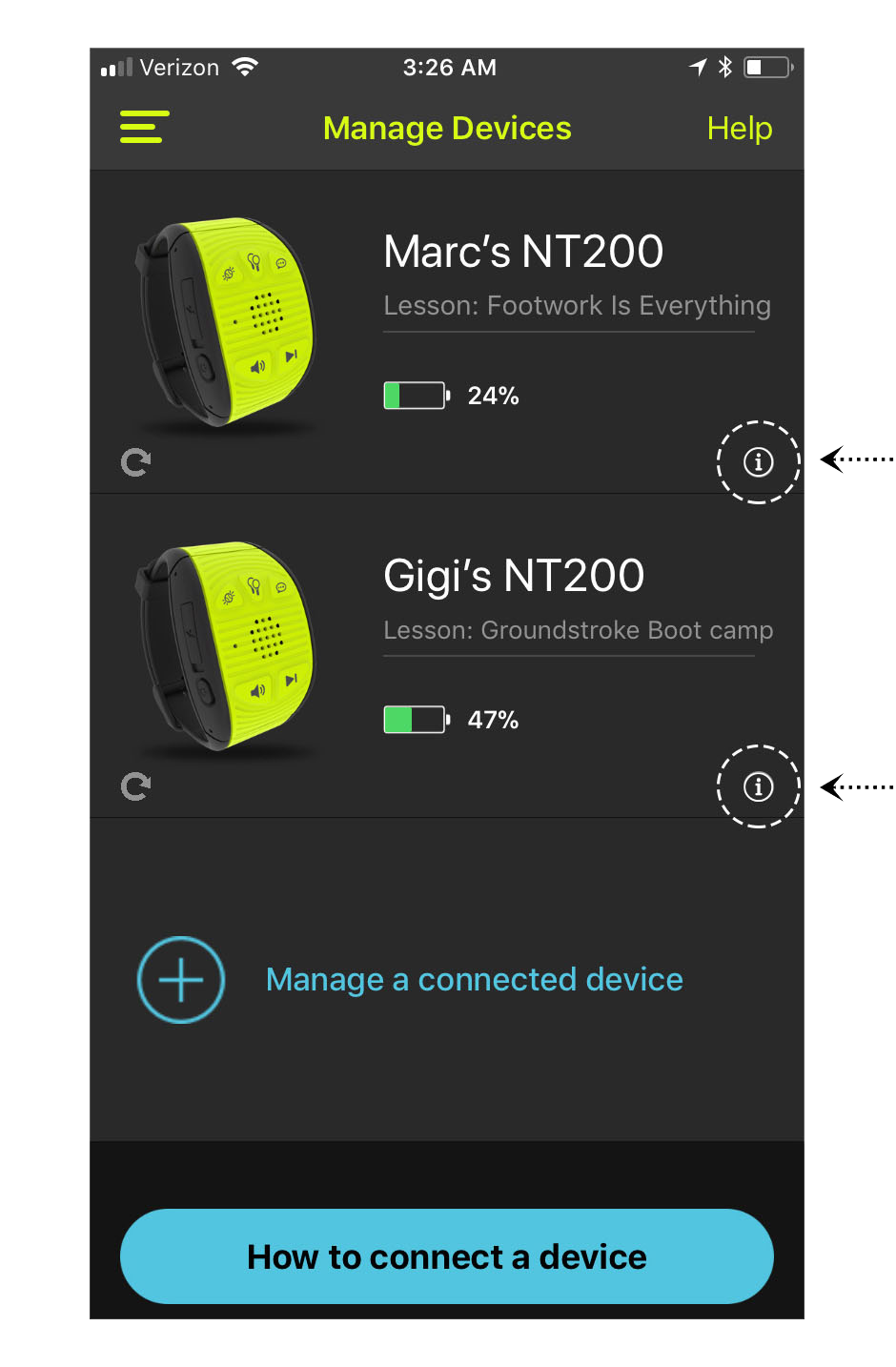 You will see the serial number listed in the Device Information. Make a note of it for your records, so it is easy to look up in the future. If you're not sure how to connect to your device, please watch the appropriate video for your type of phone (iOS or Android).
NeuroTennis Instructional Videos
Our videos help with certain common questions, and also suggest some ideas for getting more out of NeuroTennis. We'll keep adding videos here, so check back from time to time!
Pairing NT200 with Android
"Quick-Adding" Coaching Instructions to NT200
Using NT200 with a Ball Machine
Replacing the NeuroTennis Wrist Band
Frequently Asked Questions
You can enjoy instant gratification and use NeuroTennis right out of the box, without getting the app. However, without the app, you'll only have access to the default lesson that is built-in to the NeuroTennis device. To use all of the cool lessons and drills in NeuroTennis, you'll need the app. Plus, you'll be able to customize your own instructions, drills, and lessons, and even share them with your friends, or with students if you are a coach. The app also offers video explanations for many of the coaching instructions you'll hear when using NeuroTennis. You can make your own videos, too. In summary, the app is a key part of the NeuroTennis system, so we highly recommend you download it.