Turn Your Ball Machine Into a Coach™​
Combine your ball machine and NeuroTennis to work on All Aspects of your Game.
If you have a ball machine, NeuroTennis offers the best way to get so much more out of it. Step up your ball machine sessions by introducing drills that will make you focus on specific things you need to do. Your ball machine now communicates with you via NeuroTennis to give you coaching instructions that tell you to hit certain kinds of shots, as well as give you important technical reminders that will help you play your best. You choose the drills you want to execute, press PLAY, and then get to work. Your ball machine workout never felt this intense — or this productive!
Designed to Handle Ball Machine Use
NeuroTennis is designed specifically to work with ball machines. The secret is the sensitivity setting which is easily set on the NeuroTennis wristband. By setting the sensitivity to "Max", the wristband naturally detects that your ball machine is sending a ball. The wristband is simply attached to the front of the ball machine using two ordinary pieces of tape. The ball machine is now acting as your live tennis coach!  The second wristband, which you are wearing, receives signals when balls are sent to you by the machine.  This results in you taking orders from your demanding new coach! Setup takes just a few seconds.
NeuroTennis is shown here with a PLAYMATE™ unit, but the same principle works with all ball machines.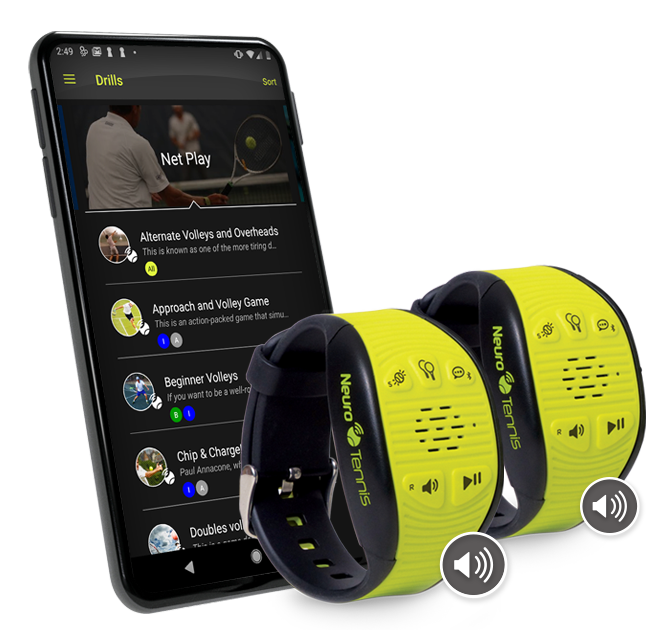 Hit the speaker buttons to hear tennis legend Mats Wilander give you coaching instructions.
The only training tool that will actually change how you play. React faster, prepare earlier, activate your footwork, and focus better with NeuroTennis now.
Train your brain, raise your game. NeuroTennis is a wristband that is unlike any other wearable on the market. It improves all aspects of your tennis game. It coaches you while you hit. It has a unique 2-player system that trains you to move, prepare, and execute at exactly the right time so you can be more efficient and effective. NeuroTennis works seamlessly with any ball machine, by allowing the ball machine to act as the second player. Whoever said you couldn't improve your game quickly never tried NeuroTennis.
Build and Reinforce the Right Habits
Coaching instructions are automatically synchronized with launches by the ball machine, as well as your own hits.  Choose your drills to work on all the habits you need to reinforce. Using NeuroTennis with the ball machine, you'll not only work harder physically, but you'll be conditioning your brain to develop the muscle memory that improves your quality and consistency, and takes your game to the next level.